Avaloq Banking Suite & MIS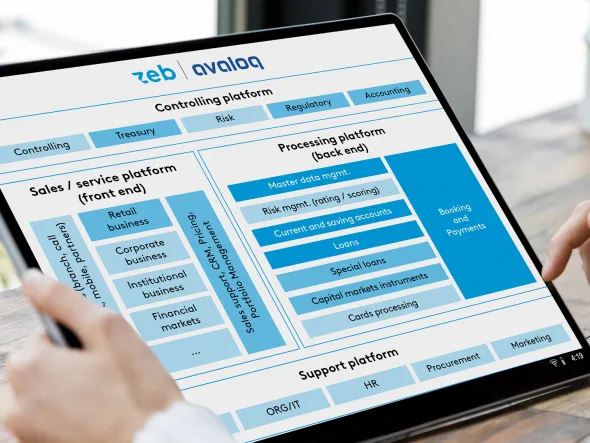 PARTNER FOR INTEGRATED BANK MANAGEMENT
Since 2011 zeb is one of the 'White-Labeling Partners' in the Avaloq community with Avaloq's MIS – powered by zeb. Fully integrated into the Avaloq Banking Suite, the module allows to control bank's profitability in every market situation. Hence, Avaloq customers are using this 100% technically integrated solution in CH, LIE, GER, UK and APAC.
Based on a standard adapter, this model is the expansion of Avaloq MIS functionalities by risk and treasury functionalities.
In other words: banks get a proven controlling functionality to help optimizing their profitability.
Due to its full technical integration, there is a quick and seamless navigation beween MIS and the Avaloq Banking Suite. Besides that, MIS reports allow for a drill-down from transaction level to Avaloq Banking Suite data. Roll-ups to the MIS are supported as well.
INTEGRATED AND TRANSPARENT PRESENTATION OF RETURNS
As it is a proven data model it can be instantly used and thus, minimize implementation time and project risks. Moreover, any historical data as well as customer changes (e.g. of relationship managers) can be considered when using the module. Furthermore, the MIS data warehouse ensures on single source of data.
Furthermore, the MIS data warehouse ensures on single source of data. Pre-defined KPIs simplify the use of the solution even more. Based on zeb's bank management know-how of more than 25 years, users will get a future proof solution with optional enhancement possibility for a complete bank management solution with other zeb.control-modules such as strategy or risk.
KEY BENEFITS OF AVALOQ MIS FOR A BANK
Avaloq MIS powered by zeb.control is a solution approach based on zeb's long-standing project expertise. With the software you can easily generate reports and analyses. Standardizes reporting can be done at an instant by using the extensive report library that is tailored to the requirements of executives. The drilldown to individual accounts and transactions allows for a quick response to special questions and analysis requests. Moreover, structural changes of the bank are immediately visible and can be evaluated in detail leaving more time for the analysis of the result situation.
Key benefits for a bank:
Enables an optimized controlling of profit center/s – considering any historical data and customer changes e.g. of relationship managers.
Allows numerous direct interactions between the Avaloq Banking Suite and the seamless integrated MIS.
Ensures that the MIS data warehouse is the one and only single source of data.
Guarantees identical definition of key figures and dimensions between both systems based on the integrated standard interface.
MIS makes sure that the calculation of all KPIs is based on a long business experience with the possiblity of individual enhancements.
Gives quick access to the MIS reports and analysis.
Allows an incremental approach, starting with low customization effort in basic package and enhancements afterwards.
Ensures optimization of release rollouts and simplified processes by just having one single contact partner.
Avaloq Banking Suite & MIS live in our product video: