Cooperation between zeb and Bank Avera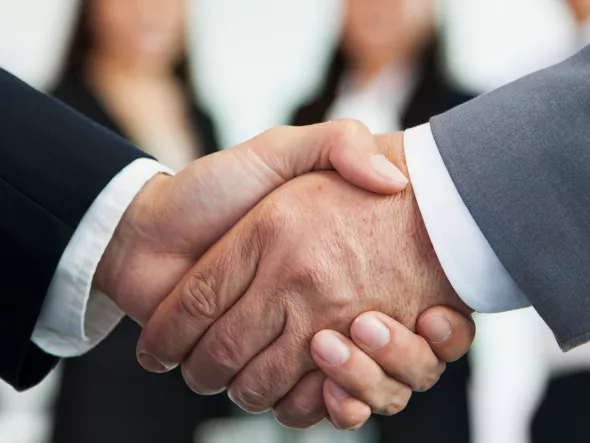 Largest regional bank in the canton of Zurich is to use zeb.control SaaS in financial management
In the future, Bank Avera will rely on a cloud-based financial management system of the latest generation for its financial controlling: zeb.control SaaS, a solution from strategy and management consultancy zeb.
The partnership opens up new opportunities for Bank Avera and zeb alike. Fabio Perlini, Member of the Management Board and Head of Sales at Bank Avera, assesses the added value of zeb.control SaaS as follows: "We will achieve significantly higher transparency and reliability thanks to zeb.control." For zeb, the cooperation with the largest regional bank in the canton of Zurich is a further step on its expansion path in the Swiss market. Norman Karrer, Partner at zeb Suisse, comments: "We are delighted to have won Bank Avera as the first Swiss client for our SaaS solution, further strengthening our existing Swiss zeb.control community."
Sales advantages thanks to enormous flexibility
The project is part of the development of an integrated data hub for holistic bank management in a private cloud of Bank Avera based on Microsoft Azure Suisse. This architectural design offers great flexibility and advantages in operation. For example, it is possible to enrich and combine financial key figures at individual customer level with other relevant data from CRM or payment transactions. "zeb.control perfectly supports our target architecture with a central data hub and flexible cloud use. In the environment managed by the bank, we benefit from a sophisticated specialized solution at a moderate price with smoothly implemented processes for further developments," says Ralf Luchsinger, Chief IT of Bank Avera, about the financial management system. The interface to the Finnova core banking system, a modern serverless architecture, and the use of Microsoft Power BI as a standard reporting tool enable a sustainable reduction in operating costs. Full-service support by zeb for the zeb.control solution, from application management to flexible billing and even upgrades, completes the offer.
Adapted to the situation of medium-sized banks
In the course of the implementation, the zeb.control SaaS solution was adapted to the specific situation of medium-sized banks in Switzerland. "Aside from SaaS in Azure Suisse Cloud, we have also implemented further developments in content. Especially for the issues of negative interest rates, refinancing structures and the countercyclical capital buffer, the existing international SaaS solution was modified and expanded for the Swiss market. This means that we can now also take the special situation regarding refinancing in the retail business into account by using differentiated, automatically calculated volume- and product-dependent yield curves," explains Frank Kathage, sales manager for zeb.control.
Other Swiss clients have already been using zeb.control as an on-premises installation for a long time. In Europe, several hundred banks trust in zeb.control.
Bank Avera is the largest regional bank in the canton of Zurich. It has 12 branches in the Zurich Oberland, on the right bank of Lake Zurich and in the city of Zurich. The bank is reliable and sound with a healthy equity base. Its strength is integrity and the connection to the region: as a cooperative, it has strong ties with its customers and distributes part of its profits to charitable institutions in the region every year. The bank offers services in the strategic business areas of retail banking, private banking and corporate banking, creating long-term partnerships based on proximity and trust.
More details: bank-avera.ch
As a leading strategy and management consultancy, zeb has been offering transformation expertise along the entire value chain in the financial services sector in Europe since 1992. Its clients include European large-cap and private banks, regional banks, insurers as well as all kinds of financial intermediaries. Several times already, the company has been classed and acknowledged as "best consultancy" for the financial sector in industry rankings. www.zeb.ch
zeb.control is a comprehensive software solution used by international banks and insurance companies. Recent studies have confirmed the excellence of zeb.control in terms of content and technology. In Switzerland, various zeb.control modules are already being used by a large number of national and regional banks. Since 2011, zeb.control has also been part of the core banking system Avaloq Banking Suite and is offered as a management information system in the form of a white label solution. Further information is available at www.zeb-control.com.