Professional extension risk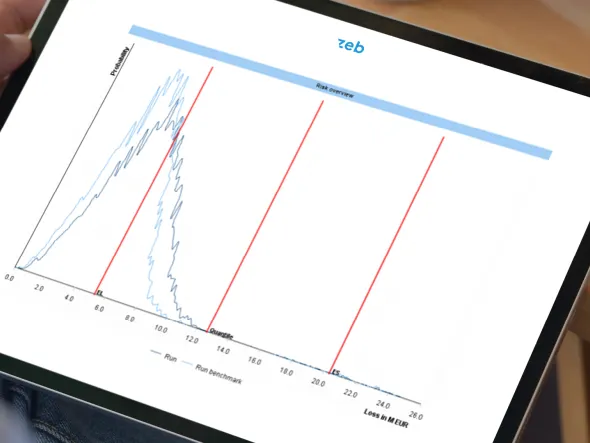 02.04.2020
Professional enhancements with the new version of zeb.control.
The focus of the technical enhancement by the new version of Credit by upgrading from version 3.30 to version 3.40 is the credit portfolio model.
In accordance with the requirements of the BAFIN RTF guidelines, a distinction is made in traditional risk-bearing capacity between periodic and economic or present-value risk management. However, the focus has so far been on regulatory periodic risk-bearing capacity. Therefore, in Credit, the measurement of counterparty risks is simplified in the economic perspective. If required, this can be used in parallel to the periodic perspective, which, however, presupposes the delivery of required data.
In addition, a dual concept with a scenario-oriented regulatory and economic management view is required in accordance with the BAFIN RTF guidelines, as a result of which there is a greater focus on economic risk measurement in the context of credit portfolio modeling. Thus, in addition to counterparty default risk, potential migration risk is also quantified - taking diversification effects into account - if this has been identified as a material risk on an institution-specific basis in accordance with MaRisk.
Economic risk measurement requires the calculation of present value credit equivalents as well as the quantification of migration risks. Therefore, the new version of Credit enables the simulation of rating migrations for the integrated calculation of credit and migration risks. This also ensures the delineation of distorting effects such as maturity and collateral effects.
Furthermore, with the upgrade to version 3.40, Credit benefits from various innovations that enable improved work. One of these is that an interface between the RTF and Credit modules makes it possible to use the results from Credit in RTF. On the other hand, the interface of Credit has been improved in that simulation parameters can be imported via the interface and the simulation of the standard scenario can be triggered via the interface.
For further information or questions about zeb.control, please contact us!