Implementation of impairment
As the leading universal bank in Northern Germany and one of the largest banks in Germany, NORD/LB acts as the state bank of the federal states of Lower Saxony and Saxony-Anhalt and assumes the tasks of a central bank for a large number of savings banks in the region. The NORD/LB group is required to prepare its consolidated financial statements in accordance with the International Financial Reporting Standards and, in consequence, also the new IFRS 9 standard, which fundamentally revises the accounting treatment of financial instruments since January 1, 2018.
1. Consistent: the implementation
When searching for a partner to support the NORD/LB group in the implementation of this highly complex new set of regulations, the group decided in favor of zeb and the implementation of zeb.control - Impairment in the context of the new requirements for risk provisioning calculation. Upon completion of the selection phase, zeb started work on the implementation in May 2016. To ensure the successful launch of the target solution before the challenging initial application date, zeb set up an interdisciplinary project team with experienced business and IT implementation experts to enable an efficient and close exchange with the business departments involved.
2. Effective: the results
At the beginning of the project, zeb and the bank's project representatives defined a multi-stage project procedure for the successful acceptance and commissioning of the zeb impairment solution in 2017. The contents and results of the implementation project's key milestones are briefly presented below.
Requirements analysis and definition of the target image 
The requirements analysis process lasted until mid-2016 and included the technical IFRS 9 impairment requirements of the NORD/LB group as a basis for the software implementation and detailed implementation planning. The requirements for the impairment solution were identified and detailed in a specification sheet during workshops, in particular with the accounting, finance and risk controlling, special credit management and IT departments, and on the basis of the existing IFRS 9 concepts. 
In parallel, the IT target image was agreed upon, which included the design of the interfaces between zeb.control - Impairment and the upstream and downstream IT systems, in order to ensure complete impairment processing for proper financial and regulatory reporting.
Implementation of zeb.control – Impairment in the existing IT architecture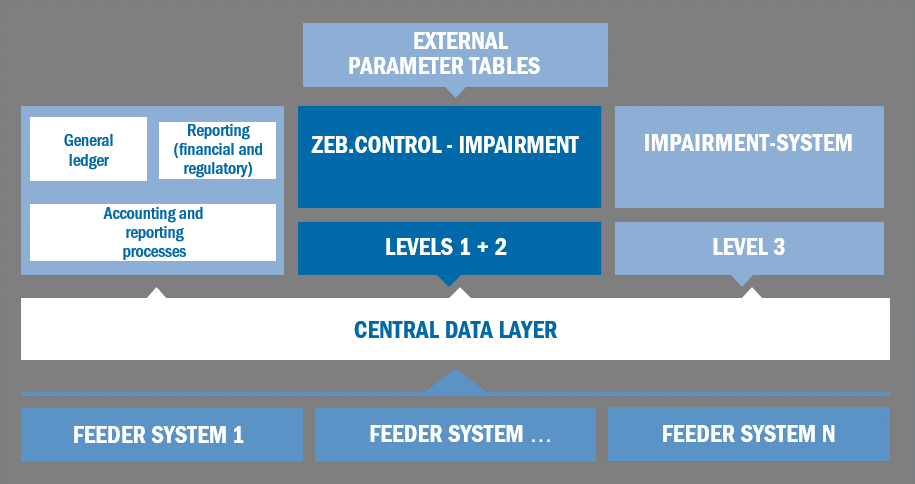 3. Future-proof: outlook and conclusion
Due to the complex, far-reaching IFRS 9 requirements, its implementation in practice proves to be challenging and ambitious. The timely completion of the new impairment procedure in 2017 with zeb.control - Impairment as a key component of the solution consequently represents a core project task for the NORD/LB group.
The close cooperation between NORD/LB and zeb as partners paved the way for complete and timely IFRS 9 impairment compliance by the first-time application date of January 1, 2018.