Introduction zeb.control - Solvency II
Background and project assignment
Solvency II imposes extensive requirements on the business related and technical management architecture of insurance companies. The new regulatory framework applies to (solo) insurers and insurance groups within the European Union and, as the legislation currently stands, it became effective on January 1, 2016. Prior to the formal implementation of Solvency II, the BaFin will start to request information from insurance companies based in Germany in 2014. Due to the major importance of an integrated data warehouse and a consistent process support, Gothaer Insurance Group carried out a selection procedure in 2011/2012 in order to find a suitable Solvency II solution. The group's focus was on the calculation of regulatory capital requirements (Pillar 1) and the generation of regulatory reporting forms (Pillar 3). The flexibility and expandability of the solution with regard to corporate management, planning and internal risk management (Pillar 2 - ORSA) was also relevant. After a successful test stage, zeb was instructed to carry out the implementation of zeb.control.solvency.II at Gothaer Group.
The project was initiated at the start of 2013 with the aim of ensuring the basic reporting capability of all major group companies at solo level until mid-2013. It is the aim of Gothaer Group to complete the implementation well enough in advance of the official effective date of Solvency II to have sufficient time left for testing purposes, possible changes and further developments. To this effect, the project scope for stage one included the implementation of the zeb.control modules Pillar 1 and Pillar 3 (solo). The next step will be the implementation of the group module in 2014. After the parameterization of the system, the main challenge for the project consisted in pooling all Solvency II-relevant data for the different group companies and importing them into zeb.control in a quality-assured manner. The data was supplied by Gothaer in a centralized manner via the department Controlling/Risk Management, based on the raw/basic data provided by the department Capital Investment, the actuarial department and the department Accounting. This approach allowed the creation of a "single point of truth" for all relevant data for Solvency II.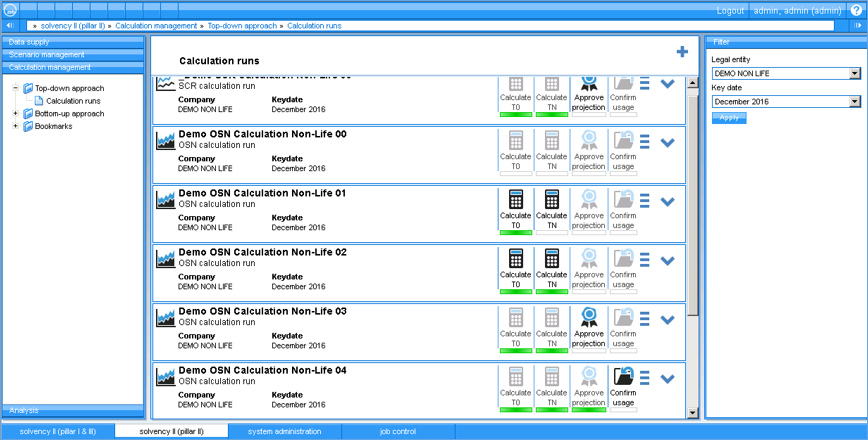 Project results and outlook
During the first stage of the implementation project, the reporting capability of the Gothaer Group companies at solo level was established successfully and in keeping with the schedule. Based on these implemented basic functions, the implementation of Pillar 2 can be carried out as a next step. This way, Gothaer Group is getting equipped with a future-oriented platform for the integration of risk management, finance and regulatory law.