zeb.control introduction in the bank network
The Swiss "ESPRIT Netzwerk" is an association of 19 independent banks and financial services providers. Since 2006, ESPRIT Netzwerk AG has been entrusted with the centralized coordination and maintenance of the IT as well as the implementation of projects for these institutions.


Initial situation and project assignment
The ESPRIT banks have set themselves the goal to introduce an optimal, future-oriented management information system (MIS) tailored to their needs that is to be structured identically for all ESPRIT banks participating in the project. The current internal system solution for tools and manual processes for the presentation, planning and analysis of management-relevant key performance indicators (KPIs) are to be replaced by a centralized and user-friendly MIS. A central management cockpit and detailed information on the sales management level will support top management and executives. 
The zeb.control product portfolio can fully meet the ESPRIT banks' requirements for an MIS. The following modules from the zeb.control product portfolio are implemented:
Top management reporting
Profit management 
Single transaction calculation
Architecture sketch zeb.control implementation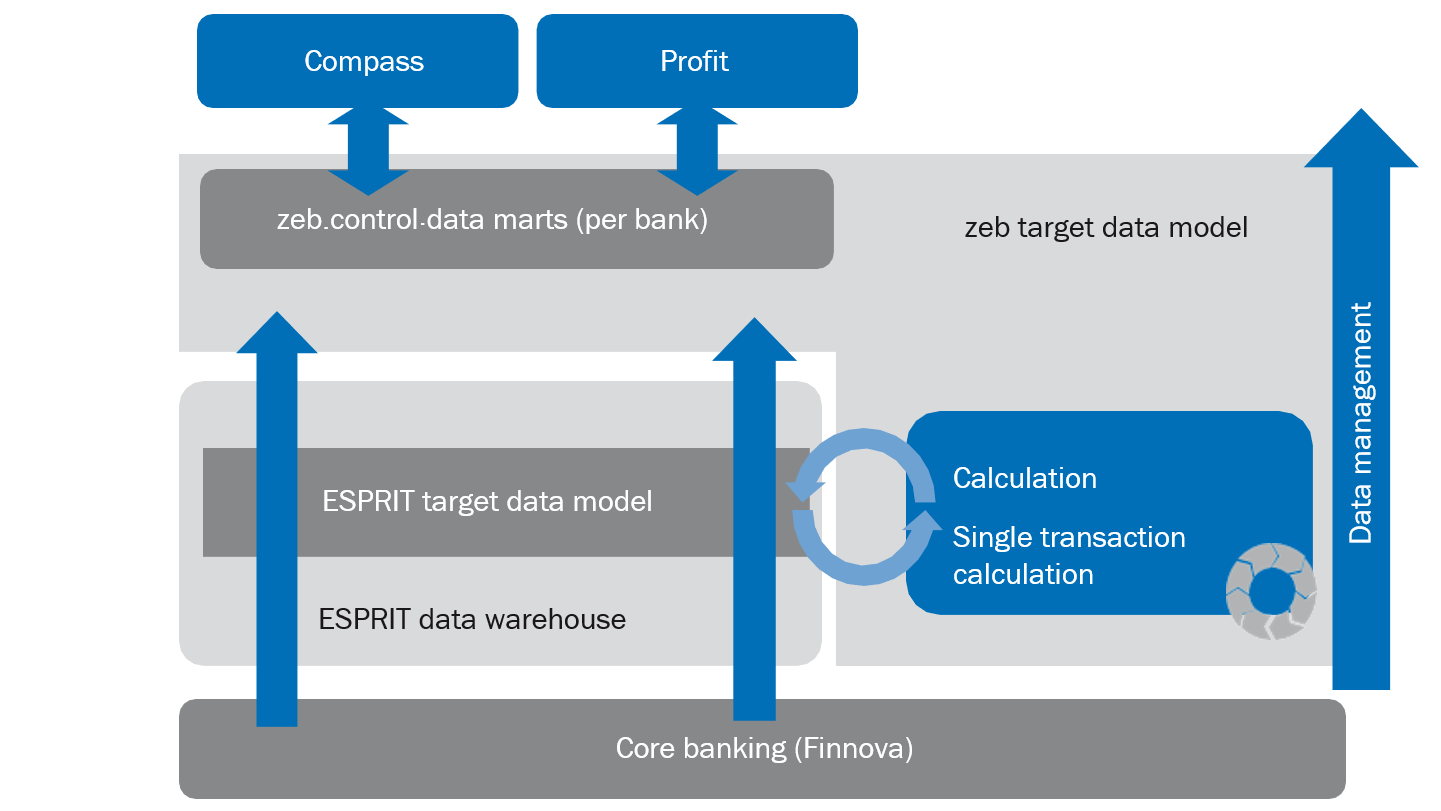 Project content and approach
The overall implementation project was preceded by a proof-of-concept-phase at the end of 2010, in which we demonstrated the functional coverage of the ESPRIT banks' requirements and the interface connection to the core banking system Finnova. This proof of concept was completed to the utmost satisfaction of the ESPRIT banks.
The overall implementation project started in the second quarter of 2011 with a two-month conceptual design phase. During this phase, together with representatives of the ESPRIT banks and ESPRIT Netzwerk AG, we conducted a detailed requirements survey as part of a series of workshops in order to identify the individual scope of analyses with zeb.control in line with client needs. 
The conceptual results were used as the basis for the implementation phase, which lasted several months. During this phase, various moduls of zeb.control were implemented for two pilot banks and integrated into the system landscape of the ESPRIT network. In addition, the data integration, processing and provision in the application-dependent data marts of zeb.control were essential implementation steps. Furthermore, the zeb.control framework for calculation provided all ESPRIT banks with a centralized single transaction calculation system.
The rollout to all ESPRIT banks is carried out successively and will be completed by mid-2012. During this phase, in addition to activating data processing for each bank and user activation, the main focus is on user training within the ESPRIT network and individually in the specialist departments.
The zeb.control management information system now provides ESPRIT banks with clear, easy-to-understand and flexible access to KPIs relevant to management and for decision-making at all levels of the bank.
We have already developed concepts for future extensions in zeb.control for the ESPRIT banks in collaboration with the pilot banks. Possible first implementation points include the introduction of balanced scorecards and benchmark analyses among the ESPRIT banks.